How can I use the mobile phone that I have brought from home in Beijing?
---
There are two ways to use your mobile in China:

(1) Visitors who wish to directly use phone numbers assigned by their domestic telecommunication operators should make sure that "international roaming service" has been turned on by their local provider before their entry to China.
Your domestic mobile telecommunication operator should provide an agreement on international roaming services with the local operator that you wish to use in China (which might be China Mobile). Your international roaming service charges will be collected according to the applicable charging rates as specified by your domestic mobile telecommunication operator. If your domestic operator and the local operator in Beijing haven't signed a roaming agreement, the international roaming service will be unavailable through your domestic phone number.
(2) Visitors entering China can buy SIM phone cards and pre-paid phone cards in Beijing to enjoy all the services provided by local mobile phone operators.
If you wish to use your own phone from home, make sure to bring a compatible GSM/GPRS 900/1800 dual-frequency mobile phone (the phone must be unlocked). You may purchase the pre-paid "Easy-Own" SIM phone cards and recharge cards provided by China Mobile to enjoy convenient mobile telecommunication services from China Mobile.
Visitors entering China can also buy (or rent) mobile phone terminals and buy SIM phone cards and pre-paid phone cards in China, they can then enjoy all the services provided by local mobile operators.
Currently, the "Easy-Own" pre-paid SIM phone cards sold at the China Mobile Service locations within Beijing have a unit price of 60RMB/card, including a credit of 50RMB. The pre-paid phone cards of China Mobile are available in a variety of price values. Once your pre-paid SIM card has run out of credit, you can conveniently recharge credit with a pre-paid recharge card.
Beijing has two main mobile phone service operators, China Mobile, and China Unicom. For more details from China Mobile, please call China Mobile's Beijing customer service hotline at +86 10 10086, or visit China Mobile's website.
If you can not use your mobile phone charger you can probably buy one (likely less than 50 RMB) at a local mobile phone store.
How can I get an internet connection in Beijing?
---
Internet services are quite popular in Beijing. Internet services are available at hotels, business centers and internet bars. You can apply for various internet connections, such as broadband, ADSL, ISDN and dial-up and choose to pay a monthly base fee without time interaction or pay based on hours of use. Detailed information about how to open an internet connection at home, please contact Beijing Telecom.
Internet bars are available throughout Beijing; the fee is usually (approximately) three yuan per hour. You may need an ID card or passport to use these facilities. Laptop users can access wireless networks at many coffee shops and some restaurants throughout the city. Internet access is also available in most hotels ranked three-stars or above. Please talk to hotel personnel about fees and guidelines when you check-in.
How can I take the subway?
---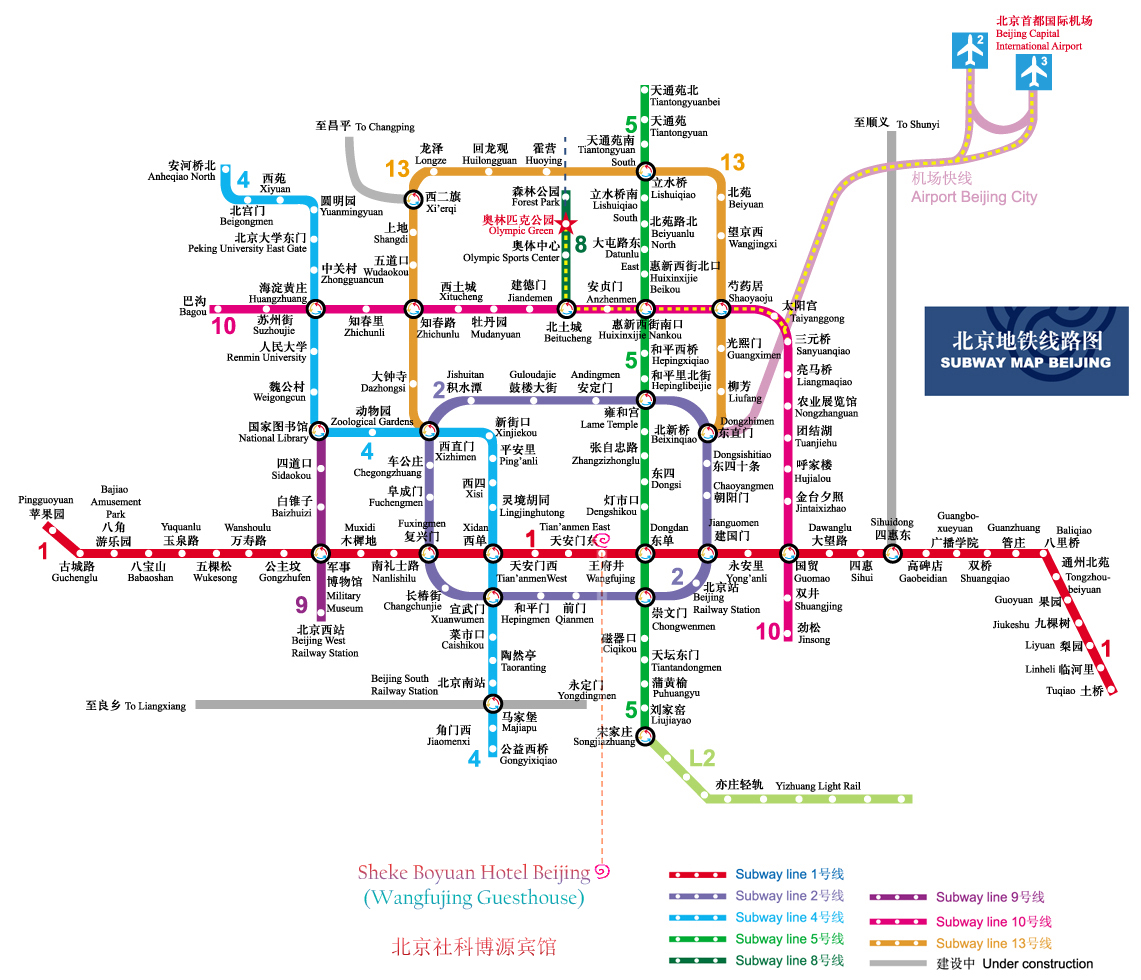 A flat fare of RMB 2.00 with unlimited transfers applies throughout the metro system. This flat fare will also apply to all future lines except the planned airport Line. Children less than 1.2m in height who are accompanied by a paying adult may ride for free.
All lines now collect fares through an automatic fare collection system (AFC) which accepts single-ride electronic tickets and the Beijing Transportation Card or Yikatong, an integrated circuit card (IC card) that commuters use to purchase and store credit for multiple rides. Riders can purchase tickets and add credit to the Yikatong at ticket counters and vending machines in every station. Yikatong is also accepted on many city buses.
Step by step instructions
A. Find the subway station
Beijing subway stations are marked with a blue sign above the entrance, usually with the name of the station at the entrance. Enter the station near the sign, from an entrance that leads downward underground.
B. Buy a single-ride electronic ticket or use a Beijing Transportation (Yikatong) Card
When you enter the station, follow the signs to buy a ticket or card at the ticket window or machine. Swipe the card across the sensor, or insert the ticket in the turnstile to enter through the fare gate.
C. Wait for the train
Usually, there are two tracks of trains heading for opposite directions, so you must follow the sign and choose the correct side of the tracks to wait for your train. In some stations, the display screen will indicate arrival times, and destination information.
D. Take the train
While taking the subway, the display screen inside the train will indicate arrival times, destination information, and show short television programs.
E. Make a transfer
To transfer, please look for a sign that says ¡°Transfer¡±, and follow the directional arrow on the sign. Transferring may involve a short walk from one area of the station to another.
F. Leave the station
After you leave the train, please insert the single-ride electronic ticket in the turnstile, or swipe the transportation card over the sensor. Next, look for the signs which indicate how to exit the station. Usually, there are four exits for each station; each exit leads to a different direction. Find the direction of your destination and choose the right exit to get out of the station.